Could solid skincare be the future of lasting beauty?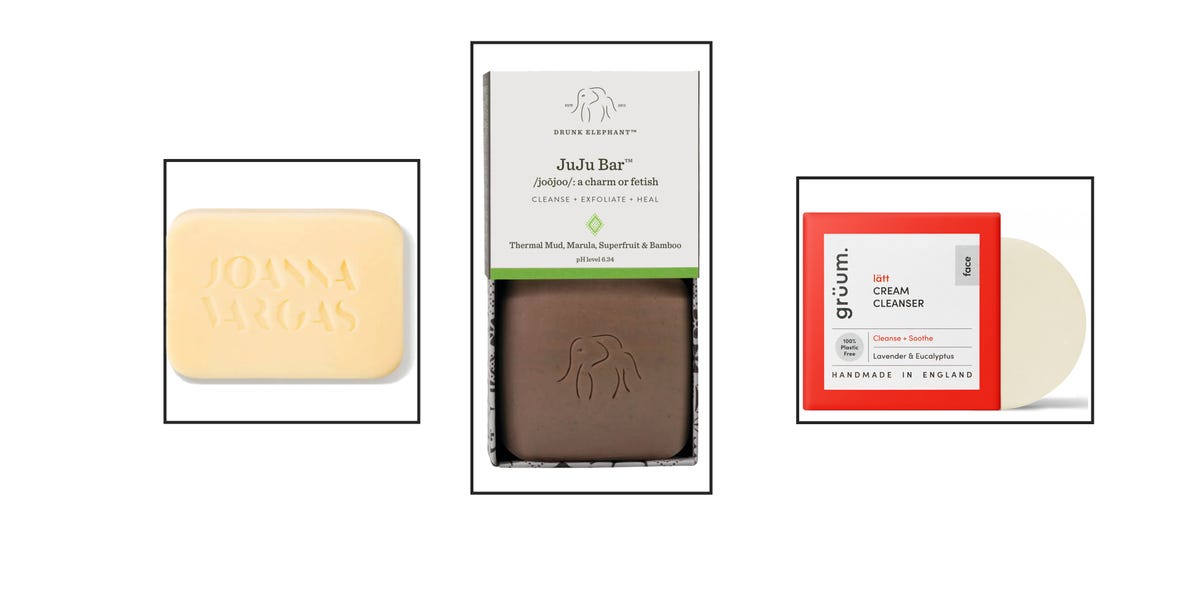 When you think of skincare, you probably envision tubes, jars, and bottles, topped with delicate droppers or airtight pumps. What you imagine, in short, is the packaging; necessary to safely deliver our traditionally liquid, gel and cream formulas from containers, to hands, to face, while simultaneously adding to the mass of "stuff" we constantly consume. This is how the beauty industry has long looked, but thanks to the rapid growth of the robust skincare market, is change happening?
According to market research firm The NPD Group, sales of prestige skincare in bars, solids and sticks were valued at £2.4 million over the 12 month period. ending at the end of March 2022, sales of prestige solid facial cleansers increased by 15%. period. Think of cleansing bars packed with natural extracts, or solid serums that melt on contact with the skin. Solid skincare may have only previously appealed to the most environmentally conscious consumers, but new launches from brands like Garnier, Typology and Drunk Elephant are making it mainstream.
The ecological aspect is the most obvious attraction of solid care. Since the bars can be easily contained in recyclable cardboard — Lush even sells some with no packaging at all — they do away with single-use plastic altogether. And there are other ecological benefits. "Because solid skincare uses little to no water, the products are a fraction of the size of their liquid counterparts. Not only does this keep packaging to a minimum, but it means they are lighter and easier to transport, and therefore generate fewer emissions," says Andy Shaw, co-founder of Grüum, which has just launched care bars to join its best-selling shampoo bars range.
Minimizing water consumption is key to reducing the environmental impact of the beauty industry. Water is a precious commodity – according to Unicef, one in three people in the world don't have access to safe drinking water – so it's an uncomfortable truth that it tends to be the number one ingredient one in many of our favorite skincare products. "Anything between 60% and 80% of a traditional moisturizer, cleanser, or cream is water. It's water that we don't really need. use," says Ben Grace, founder of solid skincare brand Sbtrct. "A solid bar only needs a second or two under the tap, and can be loaded with fantastic natural, active ingredients instead. "
This content is imported from Instagram. You may be able to find the same content in another format, or you may be able to find more information, on their website.
Convincing the modern skincare consumer, who is arguably more discerning and knowledgeable about ingredients than ever, that solid formulations are an attractive and effective alternative to liquid is crucial to their success. Most of the solid skincare products out there are cleansing bars, but it's important to note that these are not traditional soaps with extremely high pH levels for the skin. Instead, this new generation of cleansing bars uses mild, natural surfactants rather than the soap itself, so the pH doesn't exceed 6.5. While they're a great introduction to solid skincare, it's the leave-in products — designed to melt in your hands, then apply to the face — that have to work harder to impress.
Grace founded Sbtrct in 2020, after seeing a gap in the market for more ambitious, eco-conscious brands. Each of Sbtrct's skincare bars comes in a different shape and sherbet shade, and comes housed in a tastefully designed compostable box. The products look great, boast impressive green claims, and most importantly, they work.
The current range includes a rejuvenating night balm containing granactive retinoid and a vitamin C serum – two notoriously unstable ingredients, the latter of which is particularly vulnerable to degradation when exposed to light and air. With that in mind, Grace has put both products through extensive stability testing and is confident that they stand up to liquid alternatives from other brands. Vitamin C Booster contains natural sources of vitamin C (rosehip and sea buckthorn oils) as well as a stable oil-based derivative of vitamin C, while the retinoid is combined with vitamin E to prevent oxidation.
Proper storage, however, is vital for the continued effectiveness of many skincare solids, especially with volatile ingredients like vitamin C. It's also important for hygiene: another hurdle brands face to convince consumers to engage. Sbtrct sells reusable bamboo jars to ensure its leave-in bars are clean and protected from light, and Sbtrct and Grüum make dishes from a highly absorbent sedimentary rock called diatomite, which keeps cleansers dry and prevents the formation of bacteria.
"To keep solid cosmetics in perfect condition for a long time, the golden rule is to always let them dry between each use", explains Clara Croux, product manager at the French brand Typology, which markets three cleansing bars for the face. "The enemy of solid cosmetics is above all humidity." Efficient storage means Skincare Solids are also travel-ready, eliminating the risk of leaks and making them a great carry-on option.
And customers seem to be willing to try them, thanks in part to their desire to be eco-friendly. According to market research firm Mintel, 8% of Britons used facial cleansing bars in 2020, rising to 12% in 2021, while 43% of women globally would be willing to spend more on facial cleansing products. eco-friendly beauty.
"Spurred on by a pandemic-induced reprioritization, sustainability is becoming a core expectation for skincare consumers. We see this reflected in the use of their products: they are moving away from traditional cleansers in favor of solid formats like cleansing bars," says the Mintel manager. Samantha Dover, Retail Analyst: "The rise in usage shows a willingness to switch to better-for-the-environment skincare products, especially as the choice remains limited – just 0.5 % of women's skincare launches were strong in 2020."
Shaw is convinced that this will will be rewarded. "Consumers will not compromise on quality. Unless solid products work as well as their trusted bottled beauty products, they won't make the switch," he says. "In recent years, the quality and choice of solid skincare has taken leaps and bounds, and people are realizing that they don't have to choose between what's good for their skin and what's better for the planet Efficiency and respect for the environment have finally converged.
This content is created and maintained by a third party, and uploaded to this page to help users provide their email addresses. You may be able to find more information about this and similar content on piano.io